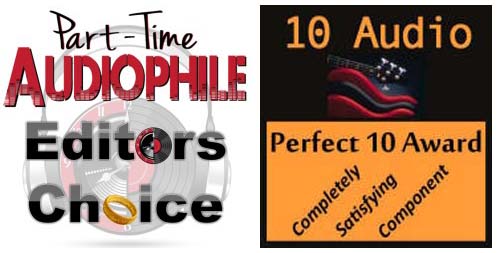 Jack Roberts (Dagogo.Com reviewer) said this about the Carrera's-
"I can tell you this' they are the best speakers I have ever had in the upstairs system. This would include speakers like the 47 Labs Lens 2, Audience ClairAudient 1+1V2+, Audio Note AN-Ks, Audio Space's LS3/5a, Fritz's own Accuton 6, Lindemann BL-6, Terresonic Magus, and the GamuT L3."
Jerry of 10Audio.Com is writing a complete review of the Carreras which will hopefully be out soon. Here are a few things he wrote in a preview on the website-
"This review is a work in progress, but I wanted to post something quickly because this is a superior loudspeaker that you need to know about. Here is the summary of my almost 10 pages of listening notes:"
"This might very well be the best, most satisfying, most real sounding music that this writer has heard outside of a concert hall."
"Depending on the size of your listening room and preferred volume levels, you might find that a high powered amplifier is not necessary. Even with the Carrera's sensitivity of 87 dB, the Inspire amplifier, with KT150 power tubes and about 15 Watts, delivers peak sound pressure levels (SPLs) of 85 dB at the listening seat (C-weighted fast response). This loudness level is satisfactory for over 90% of my listening, and only rarely would higher SPLs be welcome. More recently, a pair of Cary Audio CAD-805AE SET amps, with 211 tubes, was installed. This might very well be the best, most satisfying, most real sounding music that this writer has heard outside of a concert hall."
"The Carrera BE speaker delivers a human voice that sounds more like a real, living, breathing person than any other speaker I have heard. After hearing this clarity and truthfulness from your audio system in your listening room, there is no going back." "The Carrera BE has the best qualities of a single driver speaker. This completely coherent performance is at least partially due to the series crossover between the two drivers, which is inaudible. However, the Carrera BE has much better bass and the entire treble range is far more extended and high resolution than other single driver speakers."
BEspecifications "This review will be completed as time permits. If you are shopping or thinking about shopping for a 2-way speaker, at any price from any manufacturer, the Carrera BE should be included in your considerations. This review began with review loaner speakers, and is now a work in progress with reviewer owned speakers, which are the same pair. The Carrera BE speakers are stunning in their ability to communicate extraordinarily realistic performers."